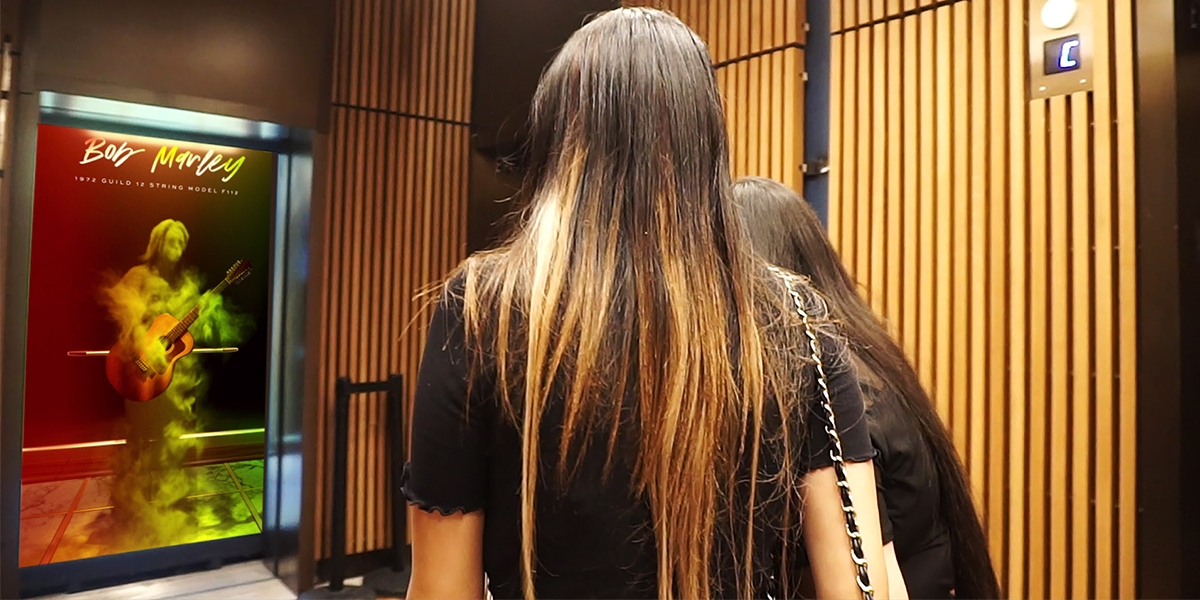 By Andy Gellis
The world's largest glasses-free 3D display recently debuted as a featured attraction in the lobby of the guitar-shaped tower of Seminole Hard Rock Hotel & Casino in Hollywood Florida. Magnetic 3D collaborated with the creative technologists at The Lab @ Rockwell Group to produce a mind-bending "Faux Elevator" experience on a 100" 4K portrait 3D display.
The combination hardware/software tech helped the team create the illusion of a real elevator featuring digitized memorabilia items from Hard Rock's extensive collection of legendary artifacts. By turning the traditional memorabilia case into an immersive digital canvas, a new paradigm in storytelling was created. Re-animated musicians and their musical instruments were able to come to life as part of a full-sensory multimedia experience without the use of 3D glasses or VR headsets — a trip into a "Metaverse" if you will. Produce experiences like this; click here.
The Challenge: How to create life-sized "holographic" 3D illusions in just 13" of space?
Hard Rock fabricates impressive cases and dioramas for displaying guitars, costumed effigies and mementos associated with many of rock's greatest legends, but an experiential installation was needed to captivate hotel guests at the elevator bank of this flagship venue. A next-gen digital solution was contemplated that could present animated Hard Rock memorabilia assets — a "digital-twin" that would entertain guests and aligned with the futuristic design of the hotel.
In essence, how could the vast collection of items be showcased to guests in a way that was as mind-blowing as when Tupac Shakur showed up almost a decade ago at Coachella?
Rockwell's technologists wanted to break free of Pepper's Ghost and other cumbersome holographic alternatives — such as reflections and mirrors — as they present their own physical and creative constraints.
Partnering with Magnetic 3D
Rockwell made the creative choice to use a 100-inch portrait display set behind a set of elevator doors as part of the tower's main elevator bank. An autostereoscopic display was the only logical option — the "holographic" effects would need to work from within a space that only had 13 inches of depth. The advent of state-of-the-art glasses-free 4K 3D displays made this all possible.
Magnetic's platform empowered Rockwell's team to animate and display scanned memorabilia items in photorealistic Glasses-Free 3D.
As guests enter the area, their movement prompts the elevator doors to open, and the interior of the elevator seems real enough, but is, in fact, a stereoscopic rendering of the interior of the elevator. The glasses-free 3D display fills the entire opening and the pre-rendered CGI animations of rock legends and memorabilia begins its loop.
For instance, Bob Marley's signature guitar is no longer static or stowed away in a vault. It now floats in mid-air with the display acting as a window into the metaverse. The guitar spins around for a close-up of the actual frets he once played and the 3D version of Marley's ghost materializes in the elevator as a puff of smoke to "play" the scanned guitar from the collection which now rests in his hands.
Check out the video to see how it works!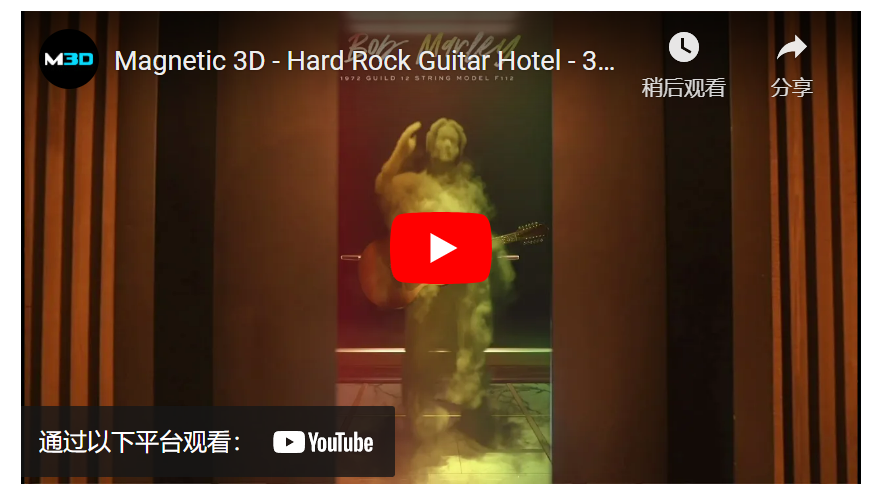 Breaking down the tech
The Hard Rock install presents a 32-square-foot (approx. 8-foot-tall x 4-foot wide) canvas for producing a "holographic illusion" and requires only 1 foot of depth including the wall mount. Protecting the monitor is a 6mm anti-reflective, anti-glare blue tint glass installed behind the elevator doors.
The display requires no special lighting or additional equipment such as 3D glasses, a special scrim, mirrors or projectors, and the solution does not limit creativity with respect to content production — from 2D to 3D imagery, whether static or full motion video, all are possible including faux holograms or Pepper's Ghost-like illusions using a black or transparent background.
3D content is delivered from a server room a few hundred feet away using video extenders and HDMI converters. Magnetic 3D's Multiview File Format is compatible with most content management systems utilizing a 3840 x 2160 4K MPEG-4 in H.264 or H.265. This allows for seamless integration with most professional audio-video control systems. A combination of Gefen and Crestron were deployed for managing this experience with AVI-SPL supporting integration and Creative Realities handling installation in collaboration with Magnetic 3D.
Glasses-free 3D displays are a versatile solution for creative technologists, experiential marketers, retailers, and exhibit designers who seek "wow factor" to engage and amaze their audience. A portrait or landscape 3D display masked within an environment provides a window into another world where visuals can recede into volumetric space or appear to "pop" off the display capturing the imagination of viewers.
Magnetic 3D's displays range from 28" to 100," and can be tiled into large video walls. Coupled with the company's production tools that support real-time interactivity via plugins for Unity 3D or Unreal Engine, there are no limits to the creative possibilities and applications that can be built with this innovative visualization platform. Become a creator, click here.
About Magnetic 3D
Headquartered in New York City, Magnetic 3D enables greater access to the world's 3D content and the metaverse with an industry-leading, end-to-end product line of Glasses-free 3D (autostereoscopic) solutions ranging from Desktop 28" monitors to 100" 3D Displays in Landscape and Portrait format, as well as 3D Video Walls.
The Company's proprietary platform of modified LCD displays features a precision engineered, optically-bonded 3D lens and custom electronics which enable 3D video capabilities without the need for 3D Glasses or VR/AR Headgear. The visual experience provides audiences captivating off-screen "pop," akin to holographic 3D effects depicted in science fiction films, and the immersive perception of depth on what would otherwise be a flat display.
Magnetic 3D provides the highest-quality glasses-free 3D visual experience for B2B applications across verticals such as retail, digital signage, gaming, digital out of home advertising, Pro AV, Smart City, IOT, hospitality, movie theaters, casinos, hotels and entertainment venues. Magnetic 3D also provides 3D visualization solutions and consulting services for aerospace, medical and defense applications where depth perception is required.
----The content is reproduced from the Internet----