Digital signage vs. kiosks: What's the difference?
Digital signage and kiosks used to be two clearly distinct pieces of technology, but that distinction has blurred in recent years. Many companies may ask "what's the real difference between digital signage and kiosks" and "how do I know which one is best for me?" Here are a few answers.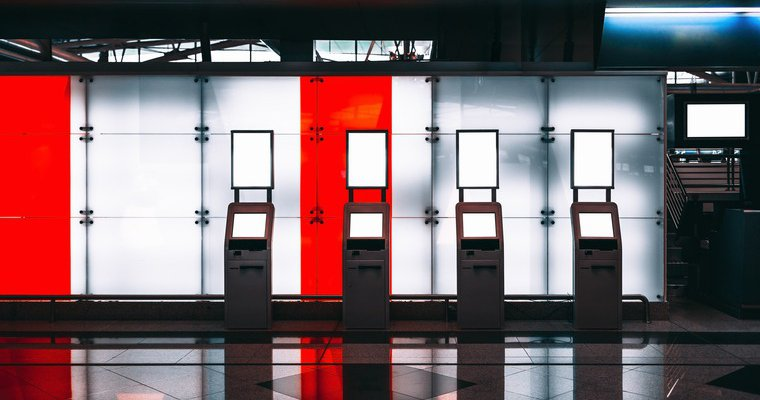 Image via iStock.com
---
| by Bradley Cooper — Editor, ATM Marketplace
Digital signage and kiosks used to be two clearly distinct pieces of technology, but that distinction has blurred in recent years. For one, digital signage has increasingly utilized interactive elements such as touchscreens, QR codes and gesture control, and kiosks have done the same with attract looping screens or advertisements.
One example of this is Intersection's Link NYC Wi-Fi kiosks. These kiosks allow users to access Wi-Fi, obtain information and charge their devices, according to Intersection's website. The kiosks also offer digital signage advertisements to meet costs.
Companies, therefore, might have a difficult time deciding whether to deploy kiosks or digital signage with all these blurred lines. As a result, they may ask, "what's the real difference between digital signage and kiosks" and "how do I know which one is best for me?
In order to answer these questions, Digital Signage Today spoke with Curtis Campbell, senior marketing manager at Hughes Network Systems, a provider of networking technology and services for both kiosks and digital signage.
Q.The line between digital signage and kiosks is getting blurrier. What do you see as the primary differences between the two technologies?
A.The line has certainly gotten blurrier. To understand how and why, we have to look at the historic differences. For a long time, the primary differentiator between kiosks and digital signage was interactivity. A truly interactive and personalized customer experience demanded the installation of a touchscreen kiosk — often very expensive and infrastructure-heavy. Meanwhile, in those days, digital signage was typically a static digital display of information that delivered a general mass experience, rather than a personal one.
Now, digital signage is more interactive than it has ever been. Displays are no longer static. The addition of sensors can create personalized experiences. And new products like smart TV digital signage offer touchscreen capabilities that enable an entirely new level of one-on-one interaction at an affordable price. So if we are comparing the very latest iteration of each technology, there are very few differences. Practically speaking, kiosks are still more costly and require more infrastructure. They tend to be bulky and less mobile. Experientially, kiosks present the opportunity for a more immersive, personalized experience than digital signage. Finally, kiosks (unlike digital signage) often go beyond purely digital interaction, delivering a more concrete transaction — for instance, acting as a point of purchase or a delivery locker.
Q.What do you see as the advantage of signage over kiosks?
A.Digital signage presents a significant cost advantage. The other distinct advantages of digital signage are flexibility and scalability. Touch-enabled digital signage can do nearly everything that a kiosk can, but is not limited to a specific location. New smart TV digital signage can be as small as 13 inches and is highly portable and suited to nearly any location — for instance, a checkout countertop or inside of an in-store pop-up shop. That digital sign can share information highly customized to its specific environment. Finally, because digital signage is more affordable and easier to install, businesses may be able to invest in more units, offering more curated settings with greater opportunity for engagement with customers.
Q.What do you see as the advantage of kiosks over signage?
A.Kiosks offer a more immersive environment for the customer with more dynamic information and options to engage. Digital signage generally has a limited number of interactive features, predicated by a "playlist." A kiosk is better able to handle open-ended queries or conduct a physical transaction. For instance, while a customer could view a promo video on a digital sign, that same customer at a kiosk could find product sourcing information, view similar products, order, pay for and ship a product to their home and more. Of course, to fully take advantage of the level of interaction possible via a kiosk, a business needs to populate the kiosk environment with a high volume of content.
Q. What are some ways companies can figure out which technology is best for them?
A. The first and most important thing companies need to do is find their "why." Companies that have clarity on the ultimate objectives for in-store digital engagement are far better prepared to weigh the pros and cons of kiosks and digital signage. For instance, if a business is trying to merge an online shopping experience with the in-store environment, kiosks are better suited to fulfilling the need. For example, if a customer is unable to find a pair of shoes in their size in-store, but the business wants to encourage that shopper to find the proper size elsewhere for immediate purchase and ship-to-store or at-home-delivery, a kiosk is the better choice.
If, on the other hand, a specialty liquor store with 50,000 bottles wants to augment employee customer service, interactive digital signage might be an ideal way to help guide customers to brands they like, or products similar to their favorites, or to provide more information on differences among varietals. While interactive digital signage can't process transactions like kiosks, it can still drive business. By providing engaging information, digital signage can entice and convert buyers without functionally closing the transaction. Signage also can help recruit for loyalty programs and cross promote or upsell complementary products.
Once companies have clarity of objectives, they can test technologies to see what works best — evaluating factors like levels of customer engagement, training aptitude of managerial staff, expectations of floor staff and more.
Another factor companies should consider is their networking partner. In-store technologies are only as effective as the network they are on. A sophisticated networking partner with experience deploying a variety of technologies and optimizing the network on which they operate can ensure digital signage, kiosks and other items within the technology stack deliver against expectations.
The article is reproduced from the Internet.